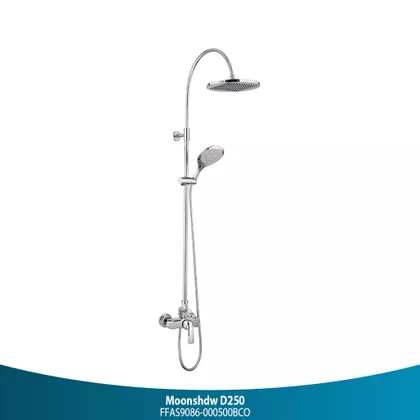 American Standard Shower Tiang Column Set Lengkap Moon Shadow Dan Milano Chrome
Out Of Stock, available in other stores
Instalment without credit cart 
Login is required to access the instalment
Paket bundling rain shower amstad yang terdiri dari milano rain shower mixer dan moonshadow rain shower system D250.
Fitur:
Twistfree: Mencegah selang pancuran agar tidak membelit.
Airnergize: Hempasan udara memberikan kemewahan pengalaman mandi saat lebih sedikit air.
Durashine: Finishing chrome yang mengkilap memberikan tampilan yang lebih tahan lama.
Easyclean: Mudah dibersihkan dari kerak atau kotoran.
Keyword: Set shower tiang , shower kran , shower mandi , shower column , shower chrome , rain shower
Select Shipping Method and Choose the Nearest Store
Produk ini merevolusi pengalaman mandi melalui inovasi dan teknologi. Produk berkualitas dengan design yang menarik dan harga terjangkau untuk kebutuhan kamar mandi anda.
Spesifikasi:
Item kran: FFAS0972-702500BF0 milano exposed rain shower kit mixer wit
Item shower: FFAS9086-000500BC0 moonshadow rainshower system D250
Instalasi: Terpasang di dinding
Warna: Chrome
Tipe produk: Rainshower kit
Material: Kuningan kelas A dengan keramik berkualitas tinggi
Dimensi lxpxt: 34x97x9cm
Berat barang: 8 kg
Dimension Product Width

97

Dimension Product Length

34

Dimension Product Height

9